Included in the release of the latest version of MEX V15 is the upgraded MEX Ops Requests system that has now been integrated in the main MEX system.
After years of allowing non-MEX users to easily submit maintenance requests directly to the maintenance teams, MEX Ops has been brought into the MEX fold and has been upgraded to take on the same look and feel of Version 15.
This means MEX Ops can be used across a variety of operating systems, all the major browsers and across iPads and Android tablets. Making the process of entering maintenance requests even easier for users who can enter them anywhere and anytime given the appropriate access to the MEX Ops and MEX system.
An additional feature now included in the new version of MEX Ops is the ability to attach Documents (e.g. an image, a PDF document, a Word document) to any Request. Previously this was only available in MEX Ops iOS app. This functionality allows users to easily attac a document to the new Request. Documents added to the request will be carried over to the Work Order should the Request be approved.
All customers that currently have MEX Ops will need to update to the latest version of MEX to gain access to this. Our support team is on hand at support@mex.com.au to help you out with any installation questions that you do have.
Any customers who do not have MEX Ops and wish to add this system to your MEX setup will need to contact MEX Sales at sales@mex.com.au or call + 61 7 3392 4777.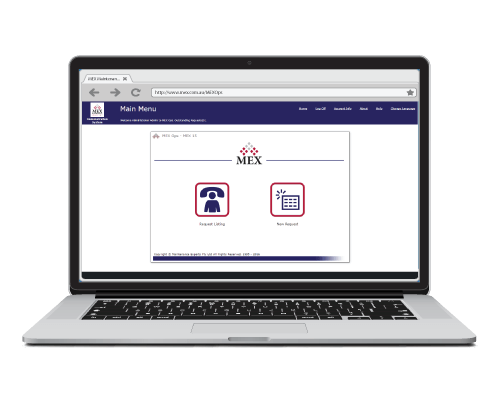 MEX Ops Main Menu in its new format.