In the latest version of MEX we introduced custom fields and modules to each and every module in the system. This enhanced the flexibility of MEX by giving users the functionality to customise MEX and making it easier to capture even more information on assets, the work carried out on these assets and their preventative maintenance schedules.
To take this even further, all customised modules can be easily accessed through the MEX iOS app and used and as if they were a standard MEX module. Giving MEX users the tools to not only work with the customised module MEX in the office, but also on the road.
Where can I find my custom module on the app?
By default three custom modules are available for you to edit and use in MEX. These three modules are also available within the Side Modules of the Main Menu of the MEX iOS app on the iPad.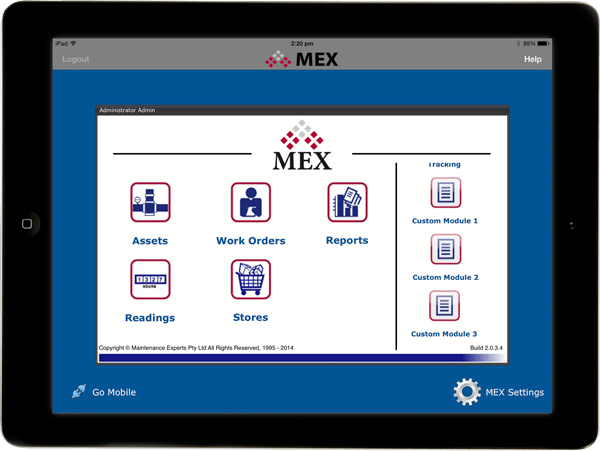 MEX iOS Main Menu showing the custom module fields in the Side Modules.

Setting up your custom module for use on the iPad is as easy as,
Making your changes to one of the custom modules in MEX on your computer.
Saving your changes.
Picking up your iPad and using the new module on the MEX app.
As all this data is saved in the MEX database so that new reports can be created and used to display the added information.
For more information on custom fields and custom modules, check out the links below.
Custom Fields is now available in latest version of MEX. If you have any questions on how to get this version please contact MEX Support at support@mex.com.au or call +61 7 3392 4777.