Save Money, Save Time with MEX Maintenance Software
Preventative Maintenance is a proven way to make equipment more productive and reliable, as well as reducing repair costs and breakdowns. MEX is Australia's #1 Computerised Maintenance Management Software provider servicing thousands of businesses throughout Australia and the world.
Businesses that implement MEX can expect the following benefits:
Reduced Costs: Well-maintained equipment equates to fewer breakdowns and also lower repair and replacement costs – A direct and measurable saving.
Increased Equipment Availability: With scheduled maintenance and inspections, equipment work more efficiently and are available more often than not.
Reliable Job Tracking: From current jobs, to requests, to historical data: Record all work carried out on equipment and in every detail.
Save Costs on Purchasing: Comprehensive inventory management, allows for stock levels to be monitored and replaced on time, eliminating wait times on critical spares.
Accurate Performance Measurement: With the vast amount of equipment information stored against equipment, reports for auditing and analytic purposes are readily available.

If you would like to start saving money and maintain your equipment to the highest standards, let MEX help you manage your maintenance operation.

For over 20 years MEX Maintenance Software has delivered measurable results for businesses and continues to be at the forefront of the maintenance industry, utilizing the best tools, techniques and ideas.
MEX supplies solutions to over 10,000 users worldwide, in industries such as; Construction, Aerospace, Mining and Minerals, Manufacturing, Food Processing, Hotels, Hospitals and Government.
We understand the complexities of Maintenance Management. That's why we create solutions to increase your operational efficiency. All of the MEX software is created from the 'shop floor' up by our maintenance engineers; we draw upon our years of knowledge and experience to deliver systems that work.

All MEX applications are easy to use, intuitive and flexible.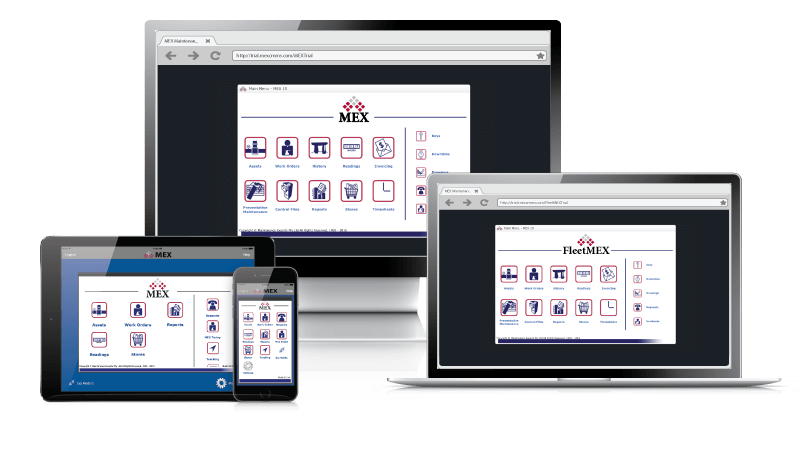 Whether you're looking for a CMMS to run your preventative maintenance scheduling (MEX), scouring the internet highway for a system to monitor and maintain your fleet (FleetMEX) or taking your business with you (MEX for iPhone or iPad) we have the flexibility to meet your request.
Contact the MEX Sales Team today for more information or call +61 7 3392 4777