Version 14.0.3.0 introduces a new feel to the MEX Suit. We have incorporated our old and new features into an easy to use start up menu.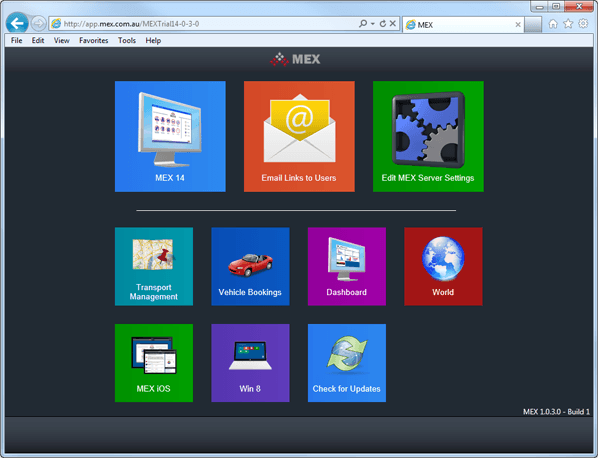 Here is a list of these enhancements:
General
Performance Enhancements added to multiple areas of the system.
A "Data Diagnostics" function has been added to the Performance area of the Control Files. This allows for database content to be automatically transmitted to MEX Support.
Addition of the "Repeating Fields" function to the editable listings.
Installation
The Deployment Server has now been included in the Data Server installation. The Deployment server will automatically check for client updates from app.mex.com.au on a daily basis.
The MEX Dashboard, MEX World, Vehicle Bookings and Transport Management systems have been bundled up into the Data Server installation.
The Documents and Reports folders in the MEX server can now be moved off of the system partition by making them Virtual Directories.
Preventative Maintenance
An "Active" check-box has been added to the Preventative Maintenance's details, allowing for the Preventative Maintenance to be suspended either indefinitely or until a nominated date.
A "Days to Complete" field has been added to the Preventative Maintenance so that the Due Finish Date of any Work Orders generated by the Preventative Maintenance will be automatically populated.
Purchasing
The Account Code drop-down in the Invoice Match Listing is now editable.
A Variance % column has been added to the Invoice Match Listing.
Quick Search
The Quick Search side module has been added to MEX. This module allows you to save commonly used database queries and display their results in a MEX Listing.
Regions
Users can now switch between the Regions that they are permitted to access via a hyper-link in the top right-hand corner of the screen.
A "Regions Overview" screen has been added to the Regions Setup area.
Reports
Reports can now be printed to xls and rtf formats.
Work Orders
A "Quick Edit" screen can now be accessed from the Work Order Listing. This screen allows for the spreadsheet-style creation and editing of basic Work Orders.
Please refer to the release notes in the user portal for a full list of Enhancements.
If you have any questions please contact Mex Support on support@mex.com.au or call us on +61 7 3392 4777