Here at MEX, we want you to have complete control of your maintenance operation from anywhere and at any time. This includes working with MEX even when a network connection isn't available. Whether it is a remote location or within an area of your workplace that has limited network connectivity, these network black spots can hinder your connection to the MEX system and render the app useless when you need to use it the most.
Eliminate Reliance on a Steady Network Connection
The Go Mobile feature of MEX eliminates the apps reliance on a steady network connection in order to work with MEX. The MEX app gives you the tools that allow you to sync your data directly onto the device while you're still in network range. You can then work with MEX even in the most remote location. Whether you are on a boat, in a factory or in the most remote location in the world, you can continue to effectively use MEX.
The Right Tools made available Offline
Through extensive research, we have come to understand exactly which tasks our users would commonly use while offline. The MEX Mobile mode provides all the information and tools your users need in order to complete a Work Order or carry out an Inspection even in the most remote workplace.
Need to do a Stocktake in the warehouse at the back of the lot. No worries! The MEX Mobile mode will allow you to perform a full Stocktake with ease whilst out of network range.
To show you the full potential of the MEX Mobile app offline, here are the tools available offline through Go Mobile:
Complete Work Orders
Carry out Inspections
Take the latest Equipment Readings
Issue and Return materials from your Store.
Perform Stocktakes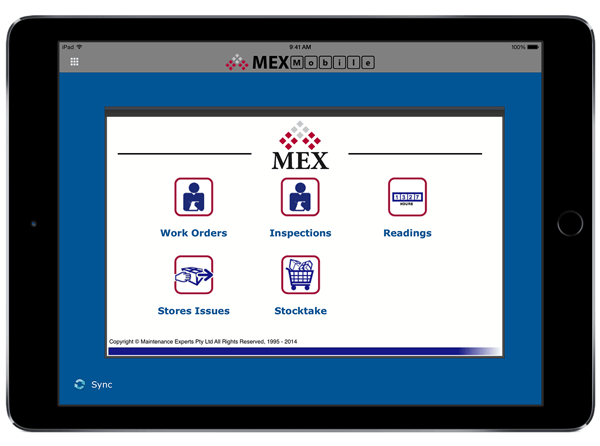 Main Menu of the Go Mobile feature of the MEX iOS app
The best thing is, you already know how to use the MEX App. For if you know MEX, you're more than ready to Go Mobile.
Other Benefits of Going Mobile
Even if you are always in a connected state, there are still benefits to Going Mobile.
You cut down on monthly data usage
All your data throughout the app loads faster
Your battery will last longer.
What's not to love?
Let's Go Mobile
Getting your online data into a disconnected state is easy with only three steps.
Starting from the main menu of MEX tap the Go Mobile button.
This is where you tell the app what data you need to be synced onto the device to allow you to effectively work offline. Do this by tapping on the sync button down the bottom left of your screen.
Here you can either configure MEX to only sync data that is
Relevant to your site
Relevant to the department you are working in
Or simply pull across the work that is associated with your user in MEX.
This is useful if you're dealing with hundreds or even thousands of records.
Once you are satisfied with your data selection, tap the sync button again and you're ready to work offline.
That's it – now you can apply your knowledge of MEX and use the system as you always have.
Once you have completed your tasks and have returned back within networks range, simply sync back the information you have entered into the respective modules and the live MEX system will be updated.
PRO TIP
To keep things simple, the process of syncing your offline data and receiving data is the same. Just hit that sync button.
I recommend syncing your disconnected data back into MEX whenever you are in the range of a reliable network. This could be on a lunch break or at the end of the day. And always sync your data first thing in the morning before you head out. Keep your data fresh and your boss happy.
Any Questions?
If you have any questions about this process please contact the MEX Support team at support@mex.com.au or call +61 7 3392 4777.