Over the years the shift towards the cloud has gathered momentum, with the appeal of having the ability to access critical work applications from anywhere and at any time a driving factor. The same can be said for the idea of having MEX hosted. Just as all other cloud hosted applications, MEX users have the ability to manage equipment from anywhere and from either their computers or iOS devices.
The first hosted customer was put up in early 2010 and since then the MEX Data Hosting service has grown to over 200 customers using the service. Last month MEX carried out a Data Hosting survey to see how our hosted customers were fairing.
From the feedback we received well over 85% were satisfied with the service, and of that 34% were extremely satisfied. We found that around 74% found it easy to use and a further 17% rated it extremely easy to use.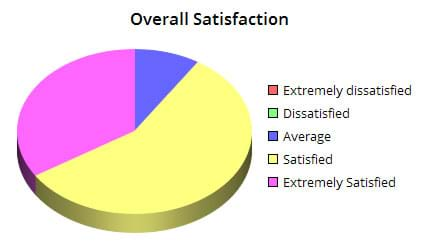 Satisfaction rating for the MEX Data Hosting Service
In terms of issue resolution, support for MEX hosting and customer related issues rated 41% as good and a little over 50% found our support service excellent. With over 70% more than satisfied with the speed of resolution and up to 20% not having any issues at all.
Looking at the feedback, it's safe to say that our hosting customers are getting exactly what they are paying for. An easy to use, accessible and reliable Data Hosting service.
As we are a company that prides itself on building on the feedback we have received. All information both positive and negative will be used towards the betterment of the service. With more and more businesses looking to the cloud, MEX Data Hosting is a service that is proven and one that you can count on.
For more information regarding this survey or the MEX Data Hosting Service in general please contact the MEX Sales team at sales@mex.com.au or call +61 7 3392 4777
Resources