Here at MEX we pride ourselves in providing a product that is easy to use and compliment that with services to ensure the product can be used at all times. To enhance the MEX Data Hosting service we provide, a number of failover plans have been put in place to ensure that all our hosted customer databases and systems will continue to run in the event of a major outage.
Over the last few weeks our Data Hosting team have conducted a series of tests to ensure that this failover plan works as it should. So, when it is called upon, we are confident that it will ensure the smooth operation of MEX.
To give you an idea of how it works, everything is executed with the click of a button but like a duck gracefully swimming on a pond underneath the water his little legs are cranking and all the magic of DNS swapping and database mirroring is all occurring to make sure there is no data loss and the customer is up and running without noticing. We are also working to automate this process to some extent, ensuring that this process will run when it is required.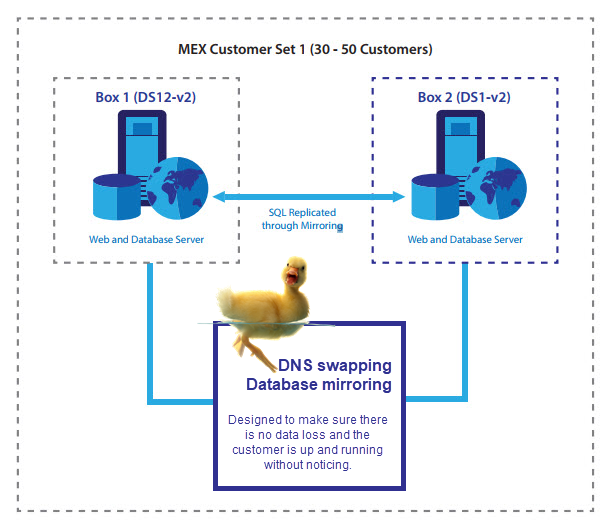 We will continue to perform tests on our hosting resources and all updates will be provided through the respective boxes hosting status pages. The main aim of these exercises is to ensure we provide a hosting platform that will continue to deliver for our customers.
Should you have any questions about this process, please contact our cloud administrator at cloud.admin@mex.com.au
Not Hosted?
If you are not hosted and wish to test our services, we do provide free hosting trials and can upload your own data to test with. Click the link below for more information