In this Tech Tip, we're going to take a look at the new set of MEX Ops Settings available in MEX 15. These settings were recently added inside the MEX main application to will allow you to customize areas of MEX Ops for your employees, trades and end users. So, let's jump on in.
Accessing the MEX Ops Settings
To get to the new MEX Ops options:
In your main MEX system, on the main menu, click Control Files.
On the left-hand accordion look for, and click, the MEX Ops Settings button.
The MEX Ops settings can be found here.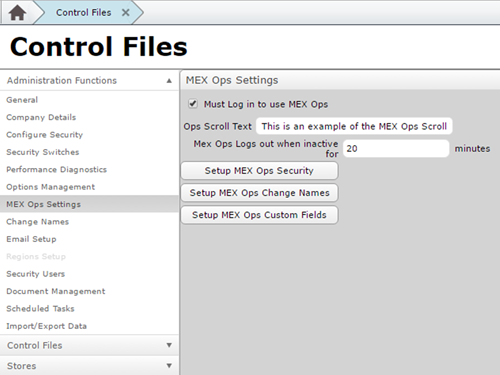 Logging into MEX Ops vs No Security
By default security is disabled for MEX Ops. Allowing quick and easy access to your users to make and view requests without the need to log in. However, letting your users run free with no restrictions can sometimes be less than ideal. If users have the option to raise requests, you may find yourself bombarded with requests for irrelevant Assets or services. This can also be an issue when it comes to identifying who it was that raised a request.
In terms of licensing, it's important to note that MEX Ops uses different licensing than that of MEX. When registering your licences MEX would have given you licences for the MEX itself and MEX Ops separately. This is usually in packs of 20 users. To confirm please go to the Hamburger Menu to the right of MEX and click on About MEX.
Turning on MEX ops security which some MEX administrators prefer to do will want require users to log in. This ensures that the person who raises a request is who they say they are. Especially if your MEX Ops is externally accessible from a centralized server for your nationwide company or if you are hosted with us. Securing access to Ops is a good practice to avoid any unauthorised users making requests in your system, or losing information about the requester.
Enabling this security measure is as easy as ticking a box. From the MEX Ops settings screen, just tick the Must Log in to use MEX Ops check box, and now all your users will require to log in. Keep in mind that all your users must now have a MEX username/password to use MEX Ops. You can see an explanation on how to do this in the Creating a new user in MEX Tech tip.
Scrolling Text in MEX Ops
The scroll text option for MEX Ops can be used to alert your users of planned maintenance to your MEX system or to alert employees to any upcoming machinery maintenance.
From there you can insert your chosen scroll text in the available field for Ops Scroll Text. This text will be visible to all users of MEX Ops.

MEX Ops Security
Similar to security in the main component of MEX, you have various security options available to your users of MEX Ops. Primarily the ability to enable or disable input to various fields, make fields mandatory and enforce mandatory fields for users.
Firstly, you will be required to choose a security group to apply these restrictions on. We usually recommend creating a new security group for users who will specifically using MEX Ops.
From there you can systemically lock down access to the available forms
Have a test account that you can use to confirm that your security settings work as you want them to.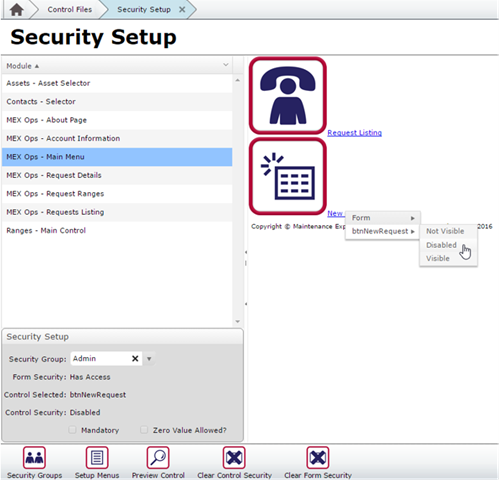 An example of disabling the New Request button for the admin group.
MEX Ops Change Name
MEX Ops Change Names lets you change the names of various forms and views in MEX Ops. This is primarily used if you already have a naming scheme for your processes or if you have a preferred term that you and your employees call things. Common examples may include changing Work Orders to 'Jobs', or Requests to 'Issue Log'. You can use Change Names to relabel practically anything in MEX, and this now easily extends to MEX Ops.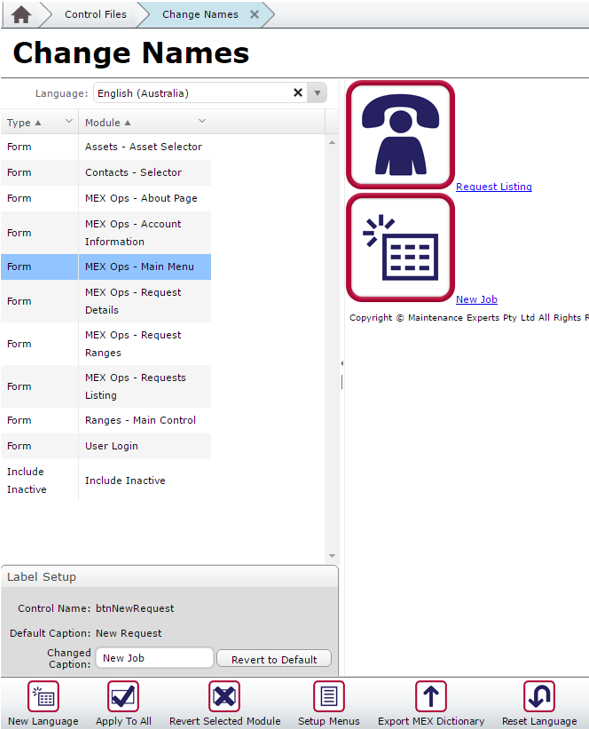 MEX Ops Custom Fields
Custom fields within MEX Ops work similarly to regular MEX. These allow you to enter extra information into requests that you may require from your users. You may also attach pictures as documents to assist in documenting requests. Custom fields are commonly used to contain additional information that is required by an approver to better describe where an issue is occurring.
As an example, you can see some types of custom fields available below. Perhaps you would require any request be submitted with a signature from the requesting employee.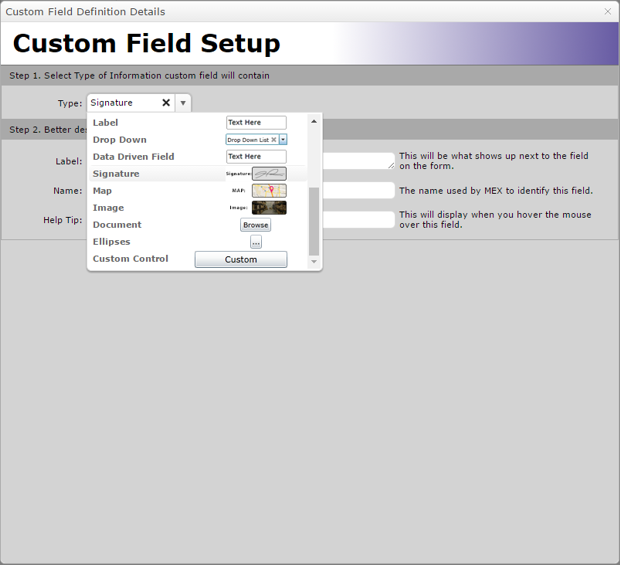 Custom Fields can also be data driven, using the power of a SQL query you can display available data from the Database.
If you have any questions about this tech tip or do not have MEX Ops attached to your license, feel free to give us a call on (07) 33924777 or email the sales team at sales@MEX.com.au for a trial version or a quote.