There are some situations where a user's connection to MEX is disconnected and for some reason the MEX system still thinks that the user is logged into MEX.
What this will do is use up one of your licenses and in the process hinder your employees who may try to log in concurrently and get locked out. All because that license is used up by an inactive user.

To help keep a handle on your licences and your currently logged in users, MEX has put in place a number of useful functions for monitoring purposes.
You can ensure that user licences are not locked by using one of the following functions:
Using View Users
If you need to free up some licences, you can remove users from this listing. To do this:
Control Files
Scroll down to and click View Users
From within the View Users Listing
Select the user you want to remove
Click the Remove User Button.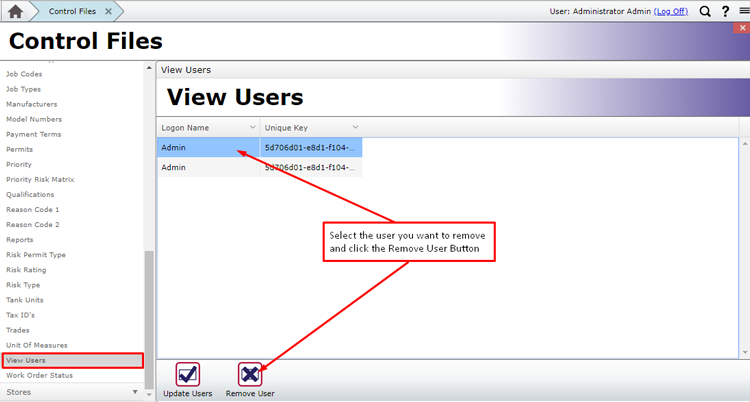 Removing a user in MEX
Do note that the View Users function is not a Control File, but it can be used to display a list of the users that are currently logged into MEX.
Using View Users as an Admin Account
It is possible to use an account with no Security Group applied to go directly from the Max Licenses error message page to the View Users Control Files. This allows you to free up licenses without using an already logged in account or waiting for the logged in account to timeout.
Removing a Currently Active User
When you remove a user that is currently logged in. If they are still active, their computer will re-poll the MEX database and if there is a spare license available, they will be allowed to continue to use MEX.
Dormant users will be removed permanently from the list.
Do note that this is just removing a database record of that user logging in and using up a license in MEX, not the actual user itself.
Using Inactivity Time Out
MEX does have the power to log out any user who is inactive for a set period time as well. This function has proved to be very handy if a user forgets to log out.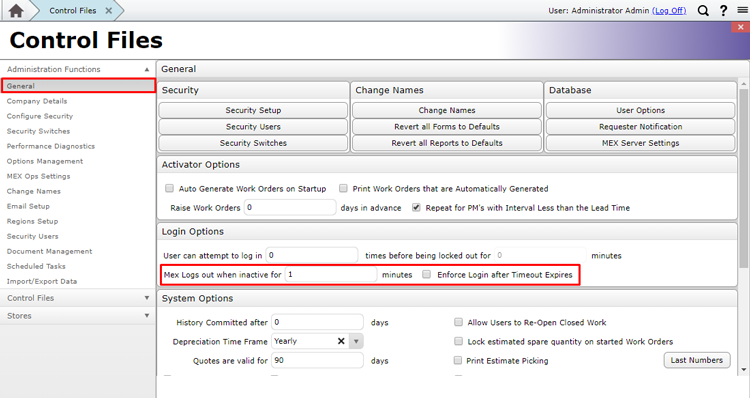 By default, the value is set to 60min, however this value can be edited at any time to a value that better suits your needs.
By making use of the functions above, you can ensure that your users are never locked out of MEX again.
Need Help With This?
For more information or help with this, contact the MEX Maintenance Software Support team at support@mex.com.au or call +61 7 3392 4777