With the recent MEX upgrade, we have introduced a more responsive design and workflow to the MEX Ops Requests system. Non-MEX users can now lodge requests anywhere, any time and on any device. If you wish to set security or enforce mandatory fields within MEX Ops, new security will also need to be applied to the new MEX Ops.
This tech tip will take you through applying this security in the new MEX Ops application via the main MEX system.
Setup Security in Requests
The first thing we want to do is open up the details of a request in MEX.
Open MEX and from the Main Menu click Requests
Select a Request and open up the Details
Navigate to the Hamburger menu in the top right corner
Click God Mode (Note: God Mode is accessed only on full administrator accounts, if you do not have access please contact your MEX admin)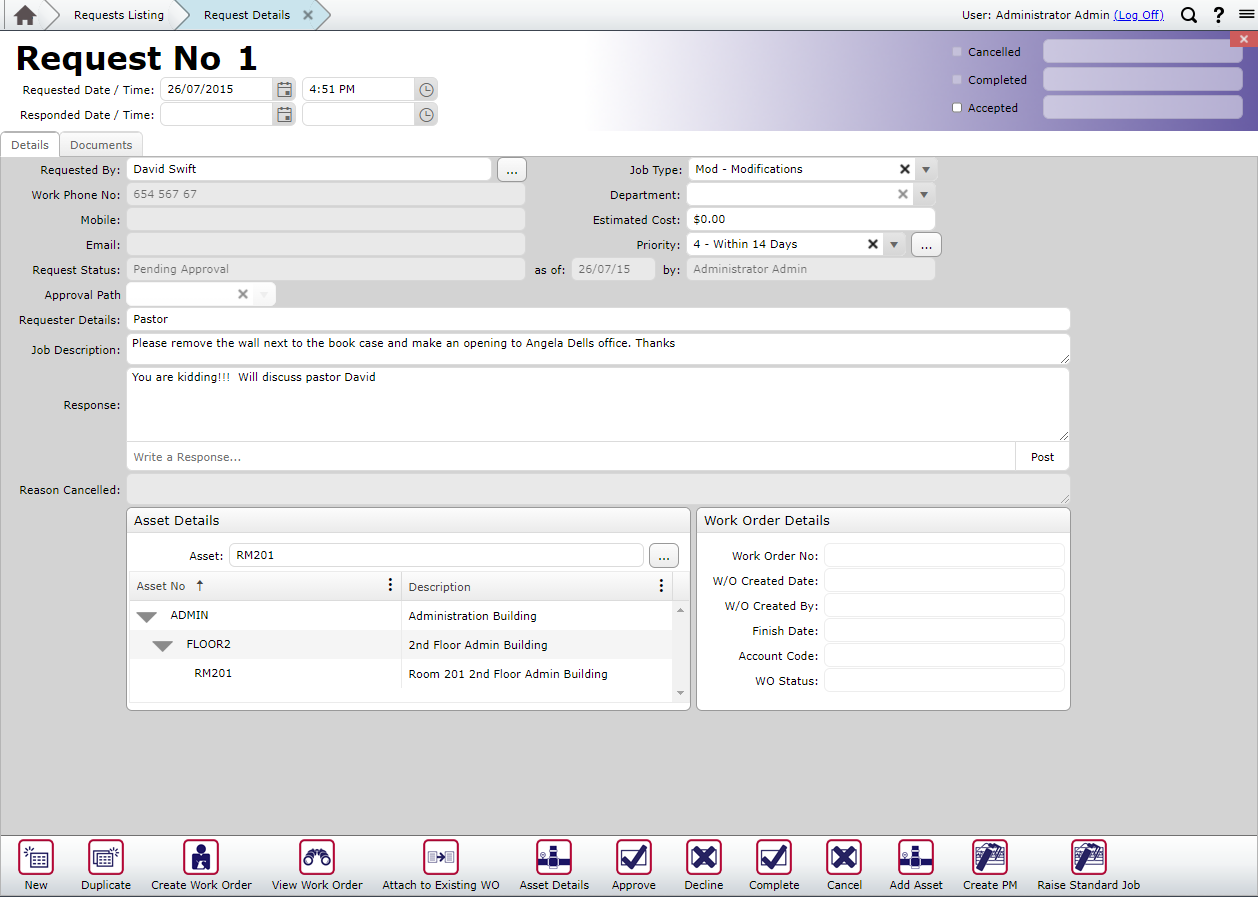 Inside God Mode click Security and select the security group we want to apply the security to, in this case I have created the security group 'Ops'
Click the Set Not Visible option and Click the Job Type and Department text boxes
Let's also Disable the Estimated Cost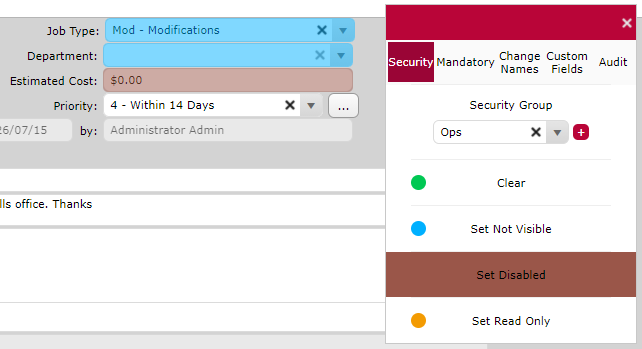 Priority is required for all requests so I want to make this field mandatory
Click the Mandatory option in God Mode
Select Zero value not allowed
Click the Priority drop down to set it as a Mandatory Field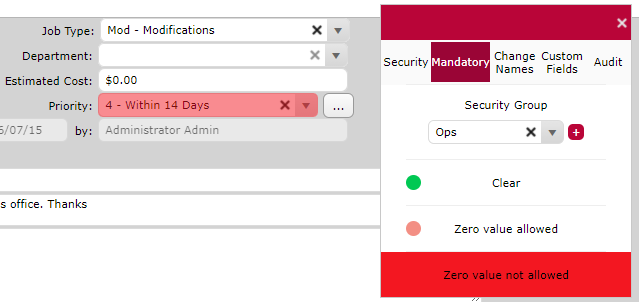 Reviewing Security in MEX Ops
Now that security has been set in MEX, these changes will carry over to MEX Ops. This includes all changes made on the Request listing and the details form.
As you can see below, the Department and Job Type fields are not visible and the Estimated Cost is disabled.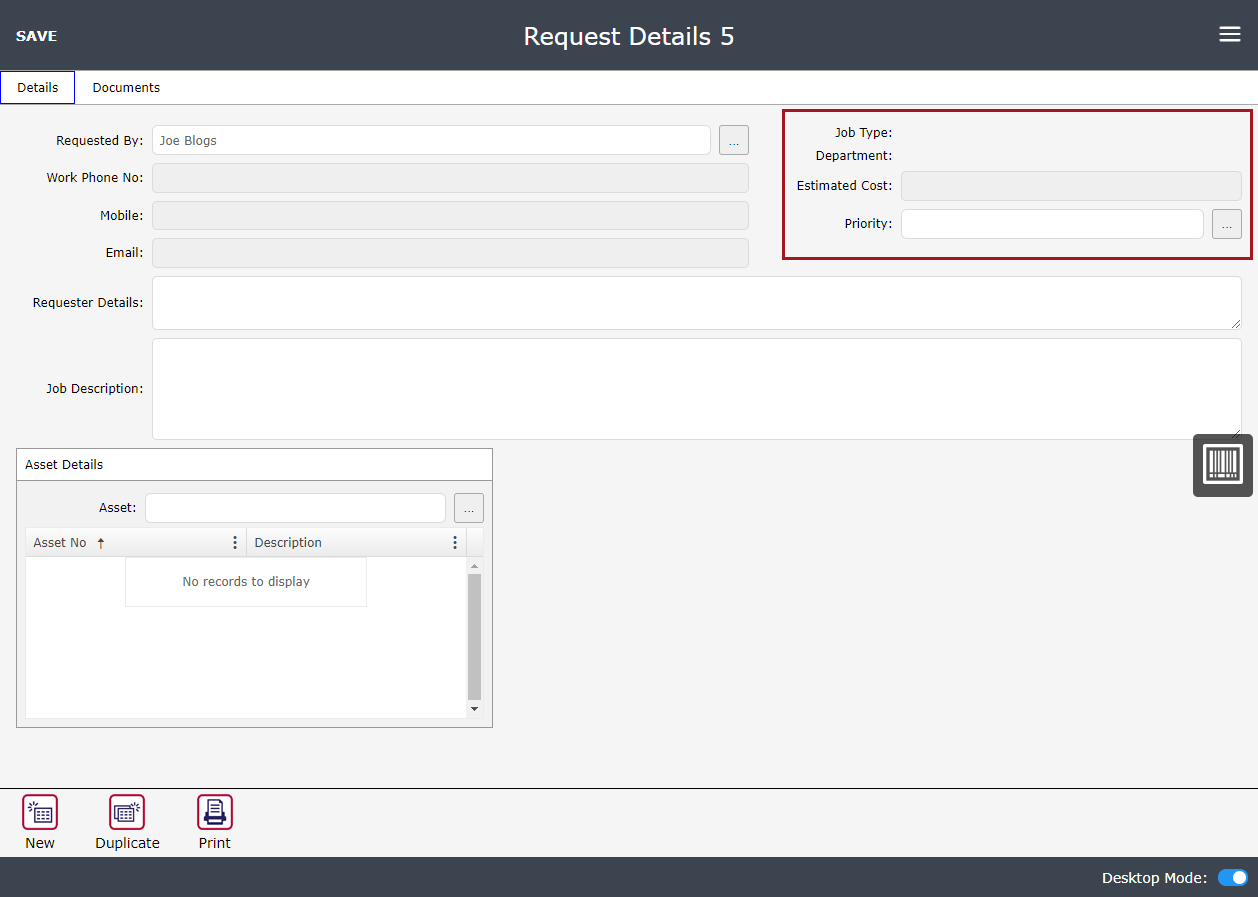 The mandatory setting on the Priority drop down is also in effect.

If you have any questions is issues with setting up security in MEX and MEX Ops, please don't hesitate to contact MEX Support at support@mex.com.au or call +61 7 3392 4777.