Work Order Management Made Easy
A Work order is a record of the work that is carried out on an asset. The Work Order Module in MEX is primarily used for the management of these records.
Work Orders may be created in MEX manually, as a result of a Maintenance Request or they may be automatically created as part of the routine maintenance schedules specified in the Preventative Maintenance.
What can MEX Store in a Work Order?
You can use the Work Order in a very simple way to only record the work that you have done. This will allow you to spend as little time as possible in front of the computer, but allow you to record essential information on the work that you have done.
At the other end of the scale, you can use the Work Order to plan all the spares, tasks, manpower, tools, safety instructions and procedures needed to do a job. You can then use the Resource Scheduler to organise when the job will be started and who will be doing it.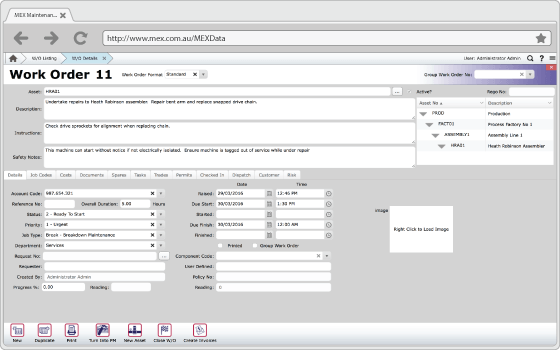 When a Work Order is created all of the information relating to the job is recorded in the Work Order including but not limited to:
The Asset that is to be worked on
Instructions for the job
The spare parts and materials that are required for the job
The labour requirements, including the names of the people doing the job, the trades of the people doing the job, estimated and actual times spent on the job
Any associated documentation relating to the job. These are attached to the Work Order as external files and may be printed out with the Work Order
The dates of when the Work Order is raised, due to start, when started and when completed
In addition, many actions can be performed from the Asset Register including:
Adding new Work Orders (Jobs)
Closing Work Orders to History on completion of work
Moving Assets within the Asset Register structure
Where are Completed Work Orders Stored?
Any work that is completed in MEX can have information recorded and stored in the Work Order History module. This information can then be recalled at any point for analysis and reporting.
Notable Features of the Work Order History module include:
A description of the actual work performed can be looked up
Asset Downtime and Repair Time monitored
View the Actual labour and material costs
Purchase orders can be created from History
A listing of all spare parts used
A set of failure analysis codes
View Personnel who worked on the job
View Notes recorded during the job
MEX lets you to store information on any work order - while in progress or already completed - in a paper or electronic form.
This historical information has many purposes;
For any statutory work a record of the event must be recorded
Work performed is often repetitive. Solutions to this repetitive work can be found through subsequent analysis of why it occurs
To report on costs of maintenance (estimated and actual)
To analyse and report on downtime/availability of plant and equipment
To analyse and report on the time to repair plant and equipment
To analyse the failures. Why they have occurred and what can be done about them