One of the main security features of MEX 15 is the ability to log into MEX using the same user details one would use when logging into their work station. By allowing the integration of Active Directory (AD) accounts into MEX, we have made administering MEX so much easier.
Here at MEX we are moving with the times and understand the increasing reliance on cloud computing and having applications hosted on the cloud. Therefore we have further increased the versatility of this feature by enabling AD authentication even when the MEX system is not hosted on a customer's local network.
For those customers that are hosted on the MEX Data Hosting platform, we can configure MEX to enable this feature at the drop of the hat. For customers who have their system hosted through their own channels, a MEX authentication program can be dispatched to initialize the setup of this feature.
All that is involved is the configuration of this program on the company's hosted box. Once set up this program will provide the MEX admin with a web address to authenticate the users, that is used to check whether or not a user is in fact a member of the specified domain and allow them to use MEX.
Once this has been setup, logging into MEX will require the specification of the company's AD Domain along with the usual username and password.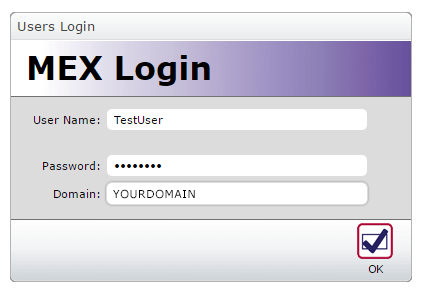 That's pretty much it, if you want more information about this, please contact our support department at support@mex.com.au or call +61 7 3392 4777.
For more information about Active Directory in MEX, here's some useful information about Active Directory Integration in MEX.