2019 is almost over and closes with another successful training year for our training team. Let's take a look at the year that was and some of what we got up to in the training space!
This year we introduced a brand-new Advanced Training Course. Through collation of customer feedback and introduction of new features, the advanced course has been restructured to empower attendees with a higher level of administration tasks to ensure the system is correctly setup. We also upgraded the Report Writing and the Two-Day Introduction to MEX courses to include updated features that have been released throughout the year. Going forward we will continue to update our courses so that our customers get to fully understand all important aspects of the MEX CMMS and keep up with the latest enhancements.
In terms of course attendance, we have had another successful year on the training front, with 80% of available spots booked out on all our courses that we run in all major Australian and New Zealand centres. From these centres our Western Australian customers really showed us how much they loved the MEX CMMS with a whopping 94% attendance rate on all our courses. The challenge is on for those companies in other states to get on MEX Training bandwagon and get more out of their systems!
From a Private Training perspective, our Trainers have been kept quite busy. Whether it was tailoring specific training to suit unique operations or performing health checks, all of our Trainers have definitely been under the pump. They are looking forward to Christmas to enjoy a hard-earnt break from life on the road.
Customer Feedback
For those that have attended our courses, you will recall receiving a feedback survey after each course. All feedback through the year, both positive and negative has helped us improve our course delivery, training locations/setup and ensured food provided at training meets customers' requirements. I mean apart from the course itself, the food is the best part.
Here are some feedback we have received:
Rob's confidence and presentation were excellent! Knows his stuff and has experiences and stories to back it up. He had no problems explaining and illustrating maintenance concepts, he took the time to ensure we were all on the same wavelength.
Darren is a really good Trainer! He knows his stuff, mixing a little humour in the training to get the trainees interested and focused during the 5 days training, Awesome guys :)
Lindsay was great at explaining every question given to him in great detail and showing the possibilities of the software, while not confusing or overloading trainees with information.
Julia is a credit to MEX. She showed an immense wealth of knowledge and experience of the software and a remarkable ability to teach its use to all involved. The examples given in the course and the ability to follow along on the provided training database made learning easier. We would like to thank Julia for her patients and good humour during our course.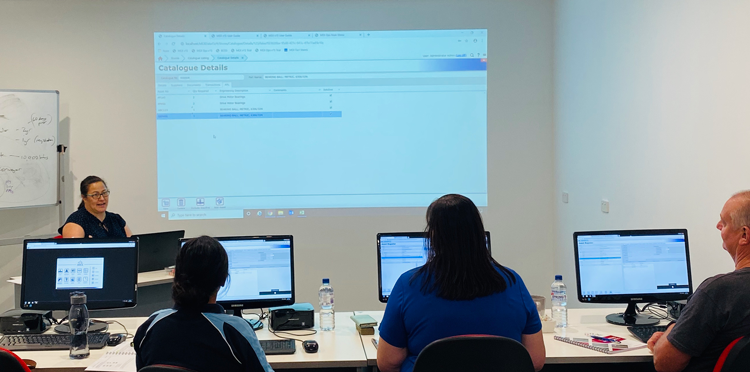 MEX Training has given confidence and knowledge which can be implemented straight away on our own system. Found the use of real-life examples in training modules which will assist when using our own system. Trainer was very engaging and able to assist in the learning process. Trainer was very approachable and able to explain concepts by real life examples. Excellent delivery of course.
We look forward to working with you all again in 2020.
Helpful Training Information
From Monday the 25th of November to Wednesday the 11th of December, we have trainers available for any Consulting or Training services required. Choose from our set courses or organise a customised course or consulting session.